Audit Days
In order for us to customise your visit so that your experience is relevant to the purpose of you coming to see us, we will ask you to share some information with us.
If you are interested in seeing Lockerbie's learning environment as a visitor:
A brief tour should take about 40 minutes and you will have the opportunity to chat with administrative staff, tutors and students, depending on your objectives. You can spend a few minutes touring a variety of classes in session* and see how our tutors use technology and resources to stimulte student-driven learning.
* Some classes are private
For students who are seriously considering a move to Lockerbie College:
Audit days are designed to be a thoughtful exchange of information. The student experiences non-traditional teaching and can therefore get a clear picture of the ways in which he or she would learn differently. Our tutors have the opportunity to informally guage academic strengths and proficiency levels. Taken together, meaningful conversations can then take place in planning the student's journey to his or her academic success.
We really enjoy having prospective students spend a couple of days at Lockerbie to see for themselves what makes the school unique. There is no charge for audit days but these need to be arranged in advance as there are several details which must be organised: timetables, email addresses, Moodle access to courses and so on.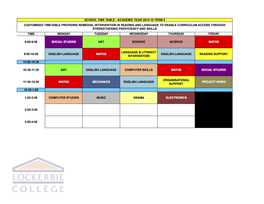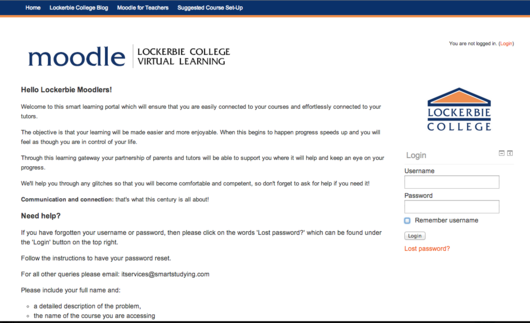 Rooms are colourful and cosy and small groups of students are busy discussing topics, watching powerpoint presentations, hooking up to You Tube, researching on line, mind-mapping information with an array of coloured pens, learning how to take meaningful notes, bulleting key words on post-it notes and engaging in learning in a contemporary way. Often movies support curriculum topics or board-games (like Chemistry Jeopardy!) are used to test knowledge. We've banished rote learning and regurgitation and filled our rooms with energetic discussion, dynamic interaction, higher order thinking and linking creative ideas. It's all about guiding students in HOW to learn successfully.
Tutors are the facilitators of knowledge and with independence as the goal, students are actively encouraged and supported in driving their own learning. Students move from one classroom to another in hourly sessions (movement breaks are great assets to task-focus) and every student in the school is known to every other.
At break times, tutors and students share common areas like the picnic tables in front of our Cafe 'Yum-Yum' and enjoy an easy camaraderie. Several tutors and students play a quick game of cricket, basketball or road tennis during the half-hour breaks while the sound of Jazz can be heard in the distance, courtesy of a tutor or student who relaxes during lunch time by playing the piano.
Does this sound chaotic? Perhaps to some, but its very, very happy chaos. The happiness and laughter, camaraderie and banter have to be experienced in person to be believed. That's why we offer Audit Days. Spending a day or two with us at Lockerbie College as an audit student will provide an absolutely clear picture of what contemporary learning offers, how the classroom experience is different from traditional Barbadian education and the social and emotional benefits of a close-knit school environment.
If you are interested in joining the Lockerbie family as a tutor:
Why not leave traditional education behind for one day and experience the excitement of contemporary learning. Small classes, personal attention, inspiring, motivational tutors and a technology-rich classroom will open your eyes to a school which teaches in a way students love to learn? Email studentservices@lockerbiecollege.com to schedule a tour of the school*.
*Due to Lockerbie's strict confidentiality protocols, designed to protect our students' learning experience, we do have some conditions before arrangements can be made. Please call or email us for specific details.
If you are a University student or recent graduate (in a relevant discipline):
We can offer you several options*:
The opportunity for Lockerbie College to assist you in case studies or research related to project or thesis work
Teacher training placements or practicums (with or without supervision)
The opportunity to audit or observe professionals in your field of study
*Due to Lockerbie's strict confidentiality protocols, designed to protect our students' learning experience, we do have some conditions before arrangements can be made. Please call or email us for specific details.